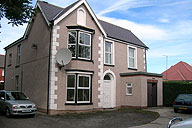 You are very welcome to visit our church at the top end of Albert Street, Rhyl, Clwyd, LL18 2DA.
We are close to the Railway station so you may want to consider using public transport - but if not we have plently of parking space and will give you a warm, Welsh welcome.
Our service times are:
Saturday (Sabbath):
Sabbath School (Bible study with classes for adults, youth and children: 10.30 am.
Family Service: 11.30 am.
If you need more information please do not hesitate to send a message to Pastor David Foster or phone 01352771489.

Other services as announced.